The family has come a long way since street racing in the original film as their roles in the spy game continues in the newest entry, which sees Justin Lin return to the director's chair in F9: The Fast Saga (2021). Dominic Toretto's (Vin Diesel) backstory is explored more than any other of the films, as it flashes back to 1989 and Dom is working as part of the pit crew for his father. He witnesses a tragedy that shapes him and his relationship with a member of his family that had yet to be revealed until now: Jakob Toretto (John Cena).
Of course, Dom and Letty (Michelle Rodriguez) have "retired" to a small farm where they are raising little Brian. That is, however, until Roman (Tyrese Gibson), Tej (Ludacris), and Ramsey (Nathalie Emmanuel) show up with news that Mr. Nobody (Kurt Russell) has gone missing, and sent them an encrypted message for help. This gets us back into the driver seat in what is by far the most self-aware and crazy Fast Saga entry to date.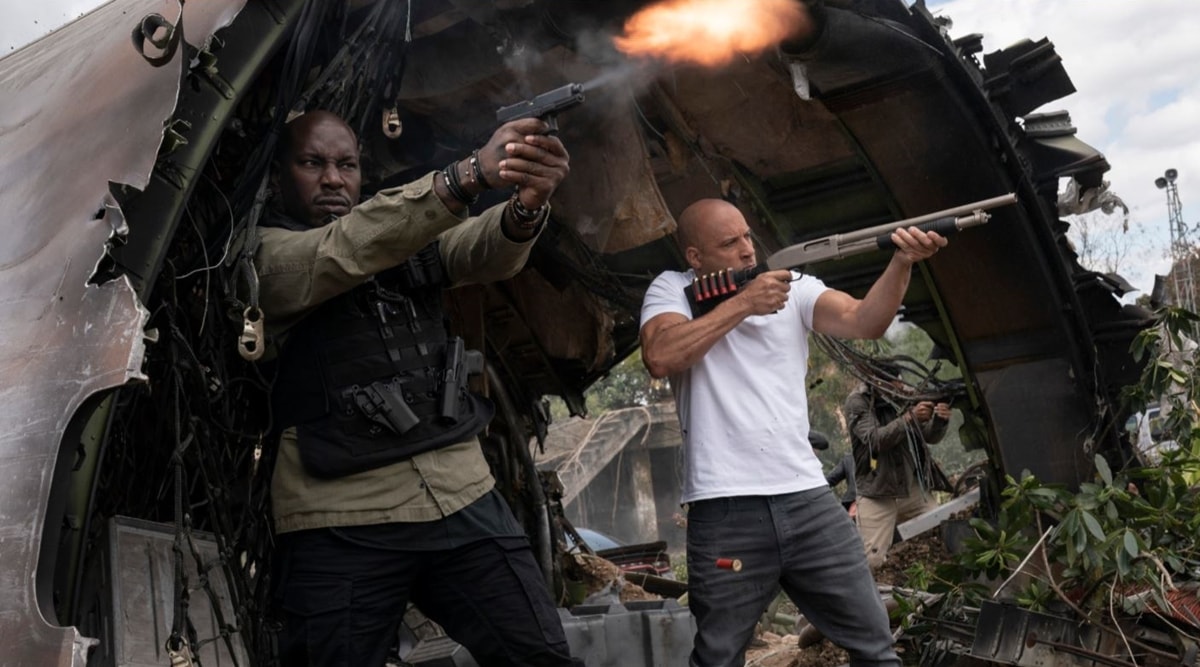 These movies have increased the stunts to a point where believability has long since flown out the window. Just watching the trailer for this one will inform the audience of the new heights that Justin Lin wants to take this franchise. However, I was not expecting for the characters in the film to start to question exactly "how" they are able to survive these increasingly unbelievable scenarios.
In the opening action set piece, Roman finds himself outside of a vehicle and being chased by several military men with assault rifles. Roman jukes and dives, managing to miss an onslaught of bullets that rival the accuracy of Star Wars' stormtroopers. The final stand-off sees Roman pull Equilibrium levels of bullet-dodging, as he is the last man standing. Smoke rises, and it is clear that he did get hit by some bullets – but the vest seems to have stopped many of them. A few minutes of car chase later, and Roman survives another unlikely scenario (especially because of the visual comedy of the moment) that even Tej has to ask how Roman is still alive. This gets vocalized more throughout the film, essentially positing that the characters in this franchise may be invincible. It's played for humor, but it definitely feels like a wink to the audience.
These films have always used a bit of sentimentality and the obvious theme of family that has permeated pop culture. However, Diesel's acting chops seem to have been overestimated for some of these moments in this film. There are at least three shots where Dom is supposed to be looking lovingly with a sense of approval at other characters. Each time, the shot and framing feel a little too Hallmark, and – what is worse – is that the face that Diesel is struggling to make looks more smug than happy. Diesel has one well from which to pull from, and a sappy father figure isn't it.
Despite many moments that made me vocalize my shock at how dumb something was, I still found myself entertained. This movie does some crazy stuff, but the pacing and the visuals are often so captivating that you get lost in the chaos. By no means is F9 the best of the franchise, but it does enough to keep us ready for the next one. F9 earns the Decent Watch rating.